Much-loved Cambridge Music Retailer To Close After 36 Years Of Trading
CAMBRIDGE - 31 July 2013
Brian Jordan Music Limited, the long-standing and widely valued independent music shop in Green Street, Cambridge will close its doors for the last time on 31 August this year.
Brian began independently trading music in 1977, sharing premises with the Early Music Centre in Princedale Road, Holland Park, London before opening up shop in Green Street, Cambridge in 1981.
Over the years that followed, Brian's dedication and encyclopedic knowledge of early and classical music earned him an enviable reputation in the music community. Serious musicians visiting Cambridge were impressed by his varied collections, the bountiful second hand department and the shop's unique, often idiosyncratic, atmosphere.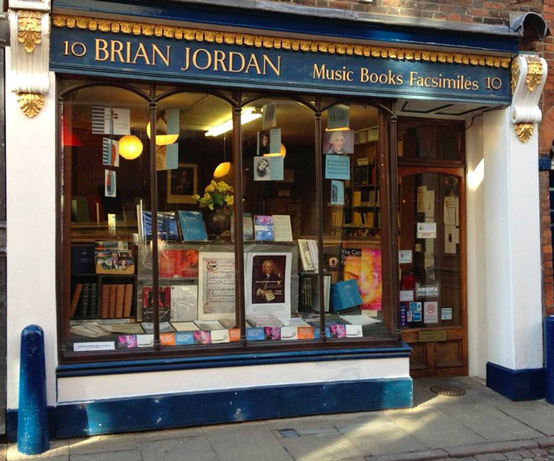 Many long-standing customers first visited Green Street as Cambridge music students, and remained customers into their professional careers. Consequently, many high profile figures the world over have been frequent visitors to the shop.
When Brian died in 2010, his contribution to the music community was met with an astounding volume of tributes, and a fantastic celebration of his life was held one evening at Trinity College Chapel in March 2011.
His widow Anne Jordan, who took over management of the shop, traded very successfully for the next two and half years, while a buyer for the business was sought.
Regrettably, no suitable person has been found, so Anne and her sons have now decided to close the doors of this unique and treasured family business.
Anne Jordan:
It has been a pleasure to have been involved in the shop, meeting so many musicians and maintaining my husband's legacy. I would like to thank everyone who has shown appreciation for our efforts over the years, and look forward to enjoying music together in the future.
---
Emma Kirkby:
Like many others, I am sure, I am struggling to take in the idea that Brian Jordan's music shop may soon be no more. Since as long as I have been involved with concerts, courses and conferences for specialists in historical performance, Brian, Anne and their staff have been an invaluable presence, gauging perfectly the resources relevant to each gathering and offering them with courtesy, knowledge and humour; and in between those events it has been a pleasure to visit the shop in Cambridge to browse through the stocks, uniquely reliable and comprehensive, or, failing that, to arrange delivery at home, always prompt and reliable.
July 2013.